MIT Technology Review's flagship conference 'EmTech Europe' will be hosted virtually from Belfast in 2021, bringing together Europe's brightest and best technology leaders, researchers, and innovators for inspiration, insight, and connection. Anaeko will be present at the event on the NI Pavilion, providing the opportunity for us to showcase the company's capability and expertise in the field of digital technology.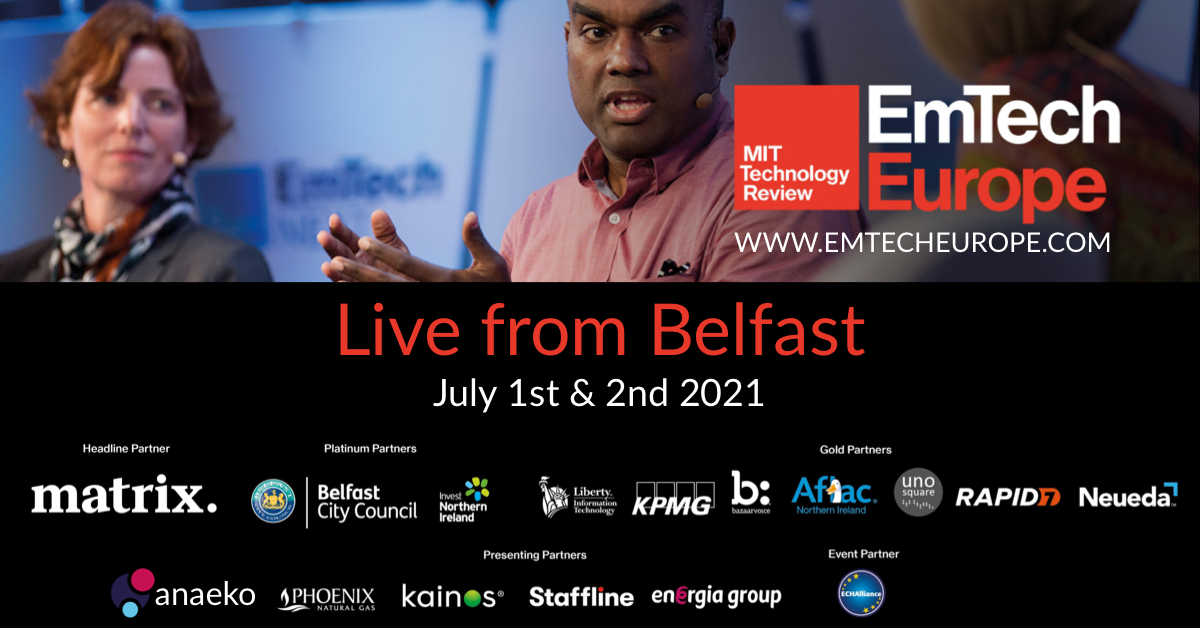 Belfast-based events company, Aisling Events, have acquired the licence to host and run EmTech Europe for the next three years – beginning in July 2021, as a virtual conference. It is proposed the conference will be hosted again in Belfast physically in 2022 and 2023 at the ICC Waterfront. Belfast was recently named as one of the Top 10 Tech Cities of the future and it is against this backdrop that EmTech Europe will be hosted.
The EmTech series of events is one of the most inspirational and transformative resources for technologists and technology companies around the world. EmTech Europe will bring bold thinking and innovative ideas to life as it examines the technologies and forces influencing our digital world today – AI, Biomedicine, Cybersecurity, Fintech, Equality, Global-Scale technology – and explores how to make sense of these innovations and trends in light of the events of 2020.
Speakers at the conference will be trailblazers within the tech industry, spear-heading developments, and innovation in their respective fields. A series of insightful talks over two days will empower high level decision-makers with ideas and inspiration, foster new relationships and share best practice.
Taking Forging a Brighter Future as its theme, EmTech Europe is aiming to unite the brightest minds in academia, business and government to share ground breaking research-to-market advances and explore the latest breakthroughs in transformative technologies. Thinking of attending the event? Check out our top ten reasons why you should attend EmTech Europe 2021:
EmTech Europe will showcase emerging technologies that have the greatest potential for impact when it comes to creating a Sustainable, Intelligent, Healthy and Equitable Future at a time when the Covid-19 pandemic has made the world we live in even more challenging.

Be inspired by outstanding, innovative, world class speakers who will cover areas including Artificial Intelligence, Robotics, Green-tech, Biomedicine, Energy, Global Climate, Economic Crisis, Health and Ethics and much more.

EmTech Europe will bring the best of the global tech world together, who with their bold thinking and innovative ideas will reimagine a world where tech transforms lives positively and serves the common good .

Major questions around Ethics and Equity will feature across the two days.

Ask the speakers questions to discover insights on the next wave of ground breaking innovations.

Connect and collaborate with people from around the Europe at a world class networking event.

Engage in stimulating conversations and gain new perspectives from across various disciplines.

EmTech Europe will provide industry collaboration and career opportunities and advancements through networking sessions.

Our live broadcast this year will help you be everywhere, you won't miss a thing.

Hosted by a city renown globally for peacemaking, a city both inside and outside of the EU, Belfast is one of the top 10 Tech Cities of the future and it will no doubt add it's own spin to the event.

Don't miss out on your chance to Get tickets to EmTech Europe,
Sign up for the event now: https://hubs.li/H0QXp590