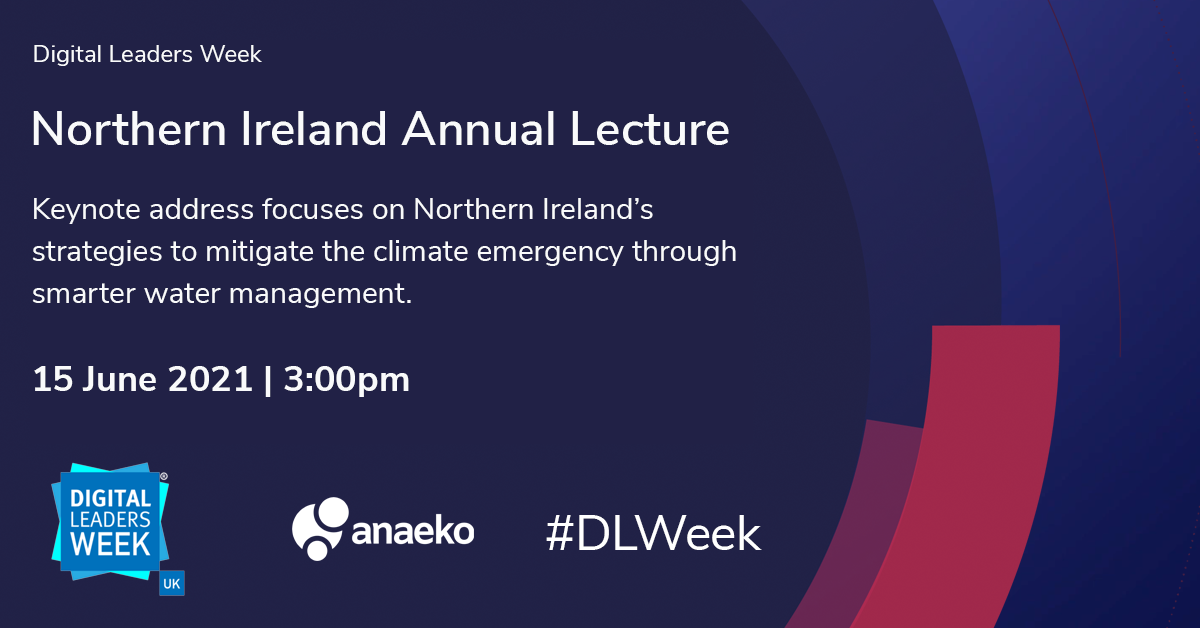 This year's Digital Leaders annual lecture keynote will focus on Northern Ireland's strategies to mitigate the climate emergency through smarter water management. As the Northern Ireland Ambassador for the event, Anaeko will partner with Northern Ireland Water to deliver this year's annual lecture and panel discussion on the challenges around becoming carbon neutral by 2050.
There is no greater threat to the environment and current ways of life than climate change. In fact, the latest science indicates that global warming must be limited to less than 1.5ºC to avoid catastrophic impact. Northern Ireland Water are committed to accelerating the transition to a regenerative, sustainable future in order to reduce and prevent further atmospheric damage and achieve #netzero.
This year's annual lecture will be led by, Alistair Jinks, Director of Business Services at NI Water. As a lead thinker in the future of water, Jinks will share how complex climate challenges are being tackled by NI Water through an array of initiatives, from green energy generation to decarbonising and improving air quality – all while reducing operating costs and creating exciting new jobs across the province. In addition to sharing a high-level strategic overview, Jinks will also discuss the infrastructure changes that are required for success and the role of data in helping to inform and manage sustainability.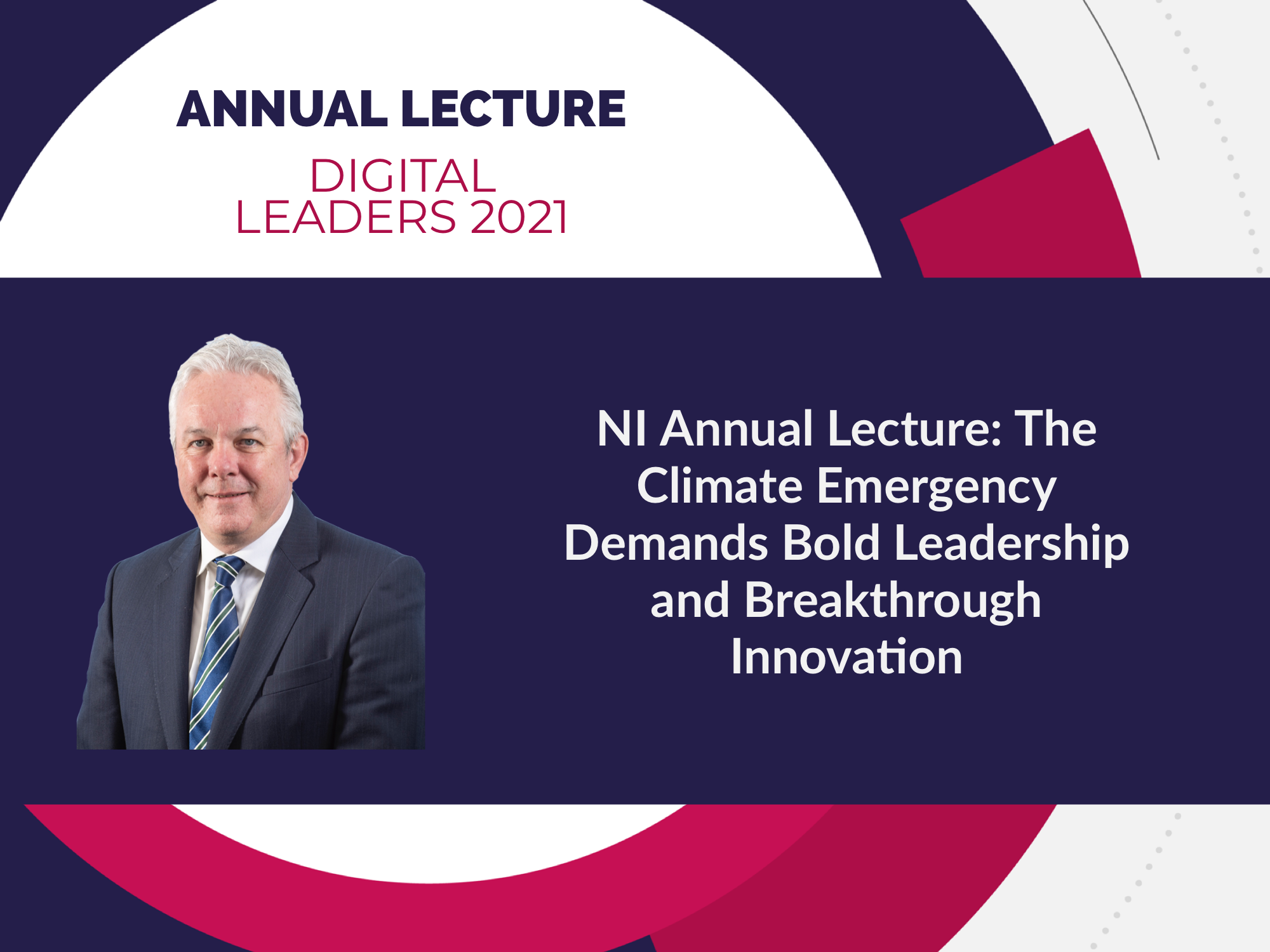 The keynote will be followed by an expert-led panel discussion, further exploring the challenges and opportunities of the transitional landscape and the role of innovative technology in reaching the ambitious net zero target. This portion of the event will be moderated by Simon Hamilton, Belfast Climate Commissioner and CEO of the Belfast Chamber of Commerce, the panel will assess the main challenges around the transition to net zero and the role of transformative technologies for creating a more resilient future.
Neil Kitching – Specialist, low carbon (water) , Scottish Enterprise


As an energy specialist at Scottish Enterprise, Neil's experience and expertise centers on the relationships between low carbon heat, water technology innovation and business.

Neil is active in the Hydro Nation Water Innovation Service, which helps companies develop new products and services and accelerate their route to market. He recently commissioned research into 'digital water' and is excited at the potential for obtaining new and valuable insights from this work.

Neil is passionate about the environment and is the author of Carbon Choices, which focuses on offering common-sense solutions to our climate and nature crises. The book identifies 10 foundational building blocks for solving these problems and includes a green action plan for government, business and individuals as well.
Ciaran Nicell – Head of Business Analytics, NI Water


As head of business analytics at Northern Ireland Water, Ciaran Nicell is responsible for developing systems and tools that improve decision-making capability across the entire enterprise.

Working within the company's business improvement team, Ciaran works closely with a variety of experts to build new intelligence capabilities in the NI Water Intelligent Operations centre.

Ciaran's background is extremely diverse. He draws on over 30 years of experience in engineering management, data systems and analysis, including 11 years at NI Water.
Professor John Barry – Green Political Economy, Queens University, Belfast


John Barry is a professor of Green Political Economy and Co-Director of the
Centre for Sustainability, Equality and Climate Action at Queen's University Belfast. He is also co-chair of the Belfast Climate Commission making him a valuable contributor in this years annual lecture during Digital Leaders Week 2021.

His areas of academic research include post-growth and heterodox political
economy; the politics, policy and political economy of climate breakdown
and climate resilience; socio-technical analyses of low carbon energy and
sustainability transitions; and the overlap between conflict transformation
and these sustainability transitions.
Colm Hayden – Chief Technology Officer at Anaeko
Colm Hayden is a well-respected cloud and data specialist. His experience over the past two decades includes roles as chief technology officer at cloud software and services companies, technical director to industry networks, technical lead on open standards, university course director and business network founder.
As CTO of data optimisation specialist Anaeko, Colm has scoped and delivered 400 projects, designed 40 cloud platforms and brought to market over 100 applications for clients including NI Water, Land and Property Services, Health and Social Care Northern Ireland, UK Government, IBM Cloud, Microsoft, Vodafone, Fujitsu, Verint, Epic Games and many more.
This program offers a rare opportunity to learn from experts at the intersection of climate and environment, net zero initiatives and digital technologies. Beverley Ferrara, European representative of The Water Council, a US-based global center for advancing water technologies and stewardship, will also compere the event.
The program begins at 3:00 pm on 15 June 2021. Register HERE.