Overview
With over 25 years' experience delivering complex regulatory change programmes in many of the world's leading financial institutions, Regtick have seen the importance of complete, accurate, secure, and timely access to compliance information. They have taken all this knowledge and built it into a cloud-based regulatory compliance platform with the help of Anaeko AWS Data Platform Design and Delivery services. Regtick required a platform that was both dependable and secure, with scalability, enabling them to swiftly introduce their product to the market. This would allow them to promptly create and implement features based on user and market requirements. Combining the domain knowledge of Regtick with the software expertise of Anaeko enabled rapid development of an award-winning platform.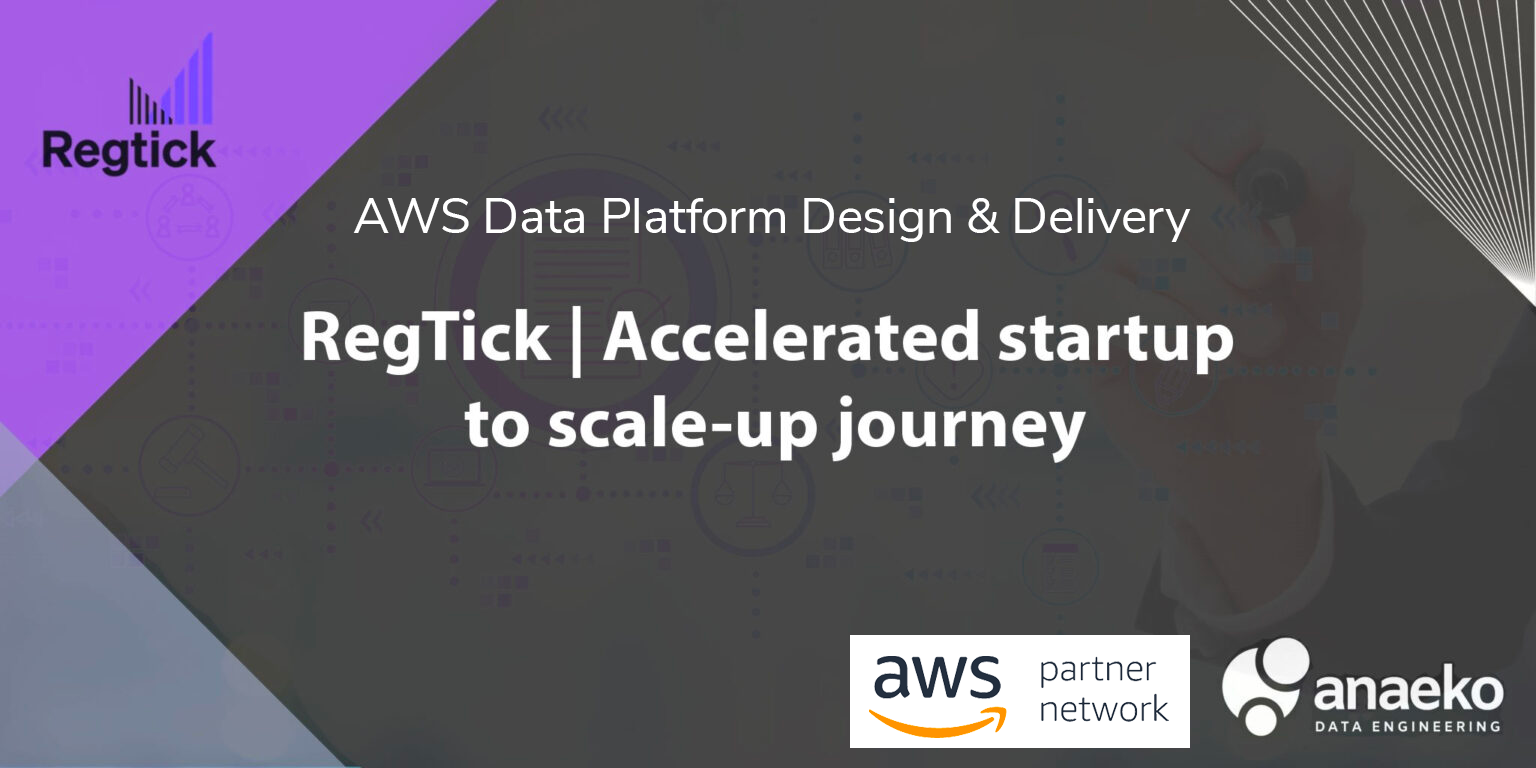 The Challenge | New cloud infrastructure for rapid scalability
Regtick were introducing a new product to the market and needed a multi-disciplined team to develop a cloud SaaS platform. This new all-in-one platform would disrupt the finance sector and become the go-to platform for managing compliance against regulations and standards for organisations. They needed to solve multiple challenges to do so.
New cloud infrastructure was required, with the scalability to support multiple application deployments for each new client. Data needed to be secure with additional security levels per user that the finance sector expects.
Large data capture and storage was essential for auditing and reporting.Users would need to access historical data due to data retention policies that vary across regulatory standards. Easy and quick deployment of new feature sets across all client applications.
The Solution | SaaS application with multi-level data access
Anaeko built a SaaS application for Regtick leveraging Amazon EC2 with appropriate VPC networking, security, and scaling configuration for high-performance and cost-effective compute infrastructure to allow Regtick to start small and scale rapidly.
Amazon Cognito for user access control delivering multi-level access, for each user, per client, allowing secure access across front-end features and back-end data restrictions. Large data sets and data capture to reload to S3 object storage with buckets to segment data, apply access control, and allow for historical data backups for reporting and analytics.
About Regtick
Regtick deliver complex regulatory change programmes in many of the world's leading financial institutions. Through leading these complex programmes, Regtick saw first-hand what the common pain-points were across organisations. So looked towards creating a platform that would provide the guidance and controls to lead compliance change more easily. Regtick have a solution that is highly visual and intuitive, scalable, yet with the security that banks and insurance firms would need.
"I'd say the greatest benefit is that Anaeko has been an incubator for our platform, and this enabled us to focus on functionality from Day 1. This incubation materialised in the form of development tooling, dev and test environments, and of course people, and some of our core architectural foundations were established early on in our partnership with Anaeko. Taken collectively, these benefits have both accelerated and de-risked the development of our platform, and our journey to market."
Adrian Hall – CTO, Regtick
The Results | Quick on-demand feature deployment
A cloud platform that supports business expansion with highly scalable architecture to supply demand. Regtick can now run its CI/CD deployments in real-time, instead of 2-3 days, therefore being able to serve customers faster and address issues quickly. Essential when launching a new product and on-boarding multiple users. Cost-optimised against data storage and on-demand infrastructure based on the capacity Regtick needs as they grow.
Why Anaeko Data Engineering? | AWS Data Platform Design and Delivery
Anaeko was the perfect candidate for this project having extensive experience working with firms as they grow from startups to scale-ups, allowing us to deliver the desired product quickly. Having learnt from previous engagements, Anaeko always ensure availability of valuable resources that our customers need now and in the future, as they continue to grow.
Anaeko's agile and collaborative mindset allowed us to work with Regtick to quickly develop the desired SaaS platform in a manner that continually delivers maximum value in the shortest timeframe to Regtick's customers. Anaeko creates platforms that are designed for current needs and adapt for future consumers.
Experienced Teams – Trust built from the start with experienced senior development teams, ensured quality development and a high level of expertise. Experienced team members also removed common mistakes throughout development increasing efficiency and reducing development time.
Rapid Agile Delivery – In the first three weeks of the project, product prototypes were created to demonstrate and prove product value. This agile, secure, and resilient infrastructure increased the pace of development for product launch.
Technical Know How – Aligning with Regticks current needs, we placed Anaeko technical experts into their existing team to provide industry leading cloud services with AWS technologies.
Regtick Free Trial
Regtick has launched its new ESG Express Trial. ESG Express is a visually intuitive approach designed to simplify and accelerate the design and delivery of ESG projects.
Read more about ESG